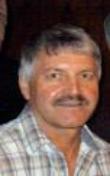 FUNERAL SERVICES FOR
Alan R. Kruse Age 53

MASS OF CHRISTIAN BURIAL
Monday, October 21, 2013
10:30 a.m.
Divine Mercy Parish
St. Augustine Catholic Church
Rev. Andrew Syring, Celebrant

VISITATION
Sunday, 4:00p.m. to 7:00 p.m.
Kracl Funeral Chapel
Monday 9:00 a.m. to 10:15 a.m.
ROSARY
Sunday 7:00 p.m.
Kracl Funeral Chapel

MEMORIALS
Family Wishes

COMMITTAL
Schuyler Cemetery

LUNCH
St. Augustines Social Hall



Send your condolences to the family of Alan Kruse
Your condolences and memories will not be displayed on this site.
They are shared only with the family

Alan R. Kruse, 53, of Schuyler, died October 16, 2013, at his home in Schuyler.
Alan was born February 17, 1960 in Schuyler, Nebraska to Richard "Dick" and Theresa (Limbach)
Kruse. He attended school in Schuyler and graduated from Schuyler Central High School in 1978.
After graduation, Alan worked at Cargill in Schuyler for many years and later worked as a meat cutter
at Didier's Grocery in Schuyler. Alan had worked for the Schuyler schools for the last 13 years as a
custodian, and was a life long Schuyler resident. He was a member of the Divine Mercy Parish, St.
Augustines Catholic Church, Schuyler.
Alan is survived by his two sons, Jason (Tami) Kruse of Columbus, Ryan (Kirsten) Kruse of Shelton.
Two Grandsons: Kaydence and Decon Kruse. Parents Richard "Dick" (Theresa) Kruse of Leigh,
Brothers Paul (Kathy) Kruse of Schuyler, Jim (Mary) Kruse of Wahoo, Kurt (Katie) Kruse of Leigh.
Sisters, Diana (Jim) Dubas of Columbus, Karen (Lynn) Koizan of Elgin, Jeanette (Tim) Lass of
Schuyler. Also survived by many nieces and nephews. Preceded in death by grandparents Joe (Angela)
Limbach, Paul (Elsie) Kruse.